School Re-Entry (Fall 2020)
School Re-Entry (Fall 2020)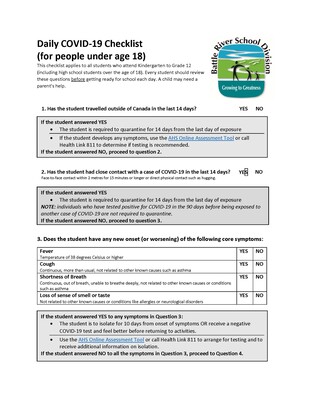 Daily Self Assessment Checklist
The Daily COVID-19 Checklist was updated on February 18, 2021, for children under the age of 18: http://www.brsd.ab.ca/download/287801
This page is being updated as new information becomes available. Please check back often!
Looking for more information about School Re-Entry? Here's our plan: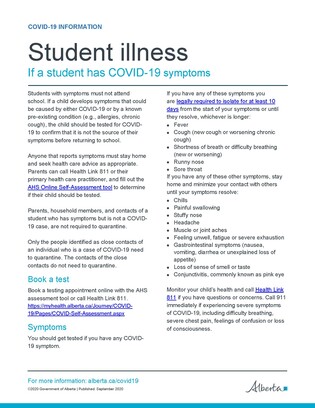 On September 4, the Alberta Government posted an updated Student Illness information sheet. It provides an overview of the steps to follow if a student answers 'yes' to any of the symptoms on the Daily Assessment sheet: https://open.alberta.ca/dataset/20d4bb45-0eb4-42cc-8553-94eafc34ee58/resource/46ed4b17-2989-412a-a70c-2bf1ddd3e239/download/edu-covid-19-student-illness-2020-0903.pdf
On August 21, the Alberta Government released a Resource Guide for Covid-19 in Schools. This guide outlines the steps schools should be taking to manage Covid-19 before, during and after a case is present in a school. Resource Guide for Covid-19 in Schools
On July 21, the Minister of Education announced that school re-entry would be based on Scenario 1. In addition, Alberta Education posted a "toolkit" for parents, with a wide range of information and resources to help families prepare for going back to school. Here are the links: https://www.alberta.ca/k-to-12-school-re-entry-2020-21-school-year.aspx#toc-2
https://open.alberta.ca/dataset/ee687c03-af4e-4e08-9a5c-2b913ebdf31b/resource/7f8220d3-5a9e-4716-bea5-c310dd959d9f/download/edc-covid-parents-guide-2020-21-school-year-2020-08.pdf
In June of 2020, Alberta Education shared draft plans for school re-entry in the fall.
Guidelines for Re-entry Scenario 1
Guidelines for Re-entry Scenario 2