Bargaining Updates
Welcome to the ​Bargaining Updates page!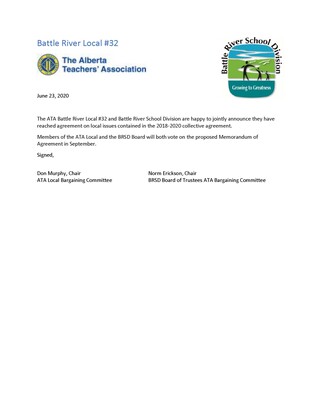 Alberta Teachers Association
​Battle River School Division, just like every other school division in the province of Alberta, has a collective agreement with its teachers. ​Most pieces of the agreement are addressed at a province-wide level, but issues specific to our local area are discussed between the Battle River Local #32 and the Battle River School Division.  
CUPE
Battle River School Division has a small group of staff who are members of CUPE.
 
The agreement currently in place was ratified by BRSD on August 24, 2017. It took effect immediately, for the four year term of September 1, 2016 to August 31, 2020.