Go back
Board passes budget based on depleting reserves
Posted on: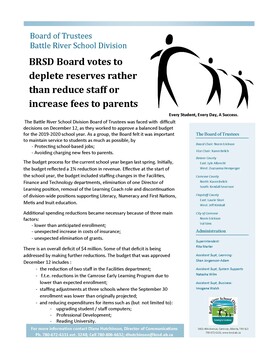 The Battle River School Division Board of Trustees was faced with  difficult decisions on December 12, as they worked to approve a balanced budget for the 2019-2020 school year. As a group, the Board felt it was important to maintain service to students as much as possible, by
- Protecting school-based jobs;
- Avoiding charging new fees to parents.
The budget process for the current school year began last spring. Initially, the budget reflected a 1% reduction in revenue. Effective at the start of the school year, the budget included staffing changes in the Facilities,   Finance and Technology departments, elimination of one Director of Learning position, removal of the Learning Coach role and discontinuation of division-wide positions supporting Literacy, Numeracy and First Nations, Metis and Inuit education.
Additional spending reductions became necessary because of three main factors:
- lower than anticipated enrollment;
- unexpected increase in costs of insurance;
- unexpected elimination of grants.
There is an overall deficit of $4 million. Some of that deficit is being       addressed by making further reductions. The budget that was approved December 12 includes :
- the reduction of two staff in the Facilities department;
- f.t.e. reductions in the Camrose Early Learning Program due to lower than expected enrollment;
- staffing adjustments at three schools where the September 30 enrollment was lower than originally projected;
-  and reducing expenditures for items such as (but  not limited to):
- upgrading student / staff computers;
- Professional Development;
- Reading University.
While all of these changes do make an impact on the bottom line, the bulk of the deficit is being addressed by using $4.1 million in reserve dollars. These are dollars that had been set aside to cover classroom technology replacements, as well as unexpected opportunities or      repairs that may not have been anticipated.
Using these funds means that, at the end of the current school year, Battle  River School Division will have basically depleted its bank account. Specific capital reserves, which are earmarked for such things as school bus purchases, will remain intact. But capital reserves can only be used for the purpose they were established and are not available to offset a deficit, without permission from the Minister of Education.
The Board is very clear that this is a one-year solution. They are        comfortable with depleting the reserves in order to maintain programs,  preserve jobs and avoid imposing fees on families.
But as they look ahead, the Board knows that, with no reserves available to cover a shortfall, Battle River School Division cannot continue to   provide service in the same way. Changes will have to be made for   September 2020.
Discussion about the 2020-2021 school year, and beyond, will begin in earnest at the BRSD Board of Trustees meeting on Thursday, January 23. As the Board said in November and repeated December 12, "everything is on the table" as we look to the future.
Bylaw and policy changes
As a result of the decisions made this fall, the Board of Trustees also began the process of changing its Bylaws to reflect their upcoming    reduction to the number of Trustees (voted on October 24) and also revise Policy 22, which provides guidelines for reserves.
 Share your thoughts, help shape the future — round two!
More than 1170 people took part in the first part of Battle River School Division's online public consultation process. The second phase of the consultation is open now, with the question What are the best ways to balance class sizes and maximize options and opportunities for all     students, while maintaining the financial viability of our school        division?  Here's the link to the consultation:
https://my.thoughtexchange.com/#534730602
- information from the December 12, 2019 meeting of the BRSD Board of Trustees