Go back
Board acknowledges the added emphasis on safety in schools
Posted on: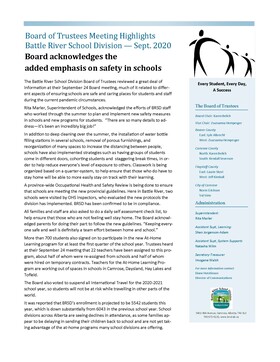 Information at their September 24 Board meeting, much of it related to different aspects of ensuring schools are safe and caring places for students and staff during the current pandemic circumstances.
Rita Marler, Superintendent of Schools, acknowledged the efforts of BRSD staff who worked through the summer to plan and implement new safety measures in schools and new programs for students.  "There are so many details to address—it's been an incredibly big job!"
In addition to deep cleaning over the summer, the installation of water bottle  filling stations in several schools, removal of porous furnishings, and                   reorganization of many spaces to increase the distancing between people, schools have also implemented strategies such as having groups of students come in different doors, cohorting students and  staggering break times, in order to help reduce everyone's level of exposure to others. Classwork is being organized based on a quarter-system, to help ensure that those who do have to stay home will be able to more easily stay on track with their learning.
A province-wide Occupational Health and Safety Review is being done to ensure that schools are meeting the new provincial guidelines. Here in Battle River, two schools were visited by OHS inspectors, who evaluated the new protocols the  division has implemented. BRSD has been confirmed to be in compliance.
All families and staff are also asked to do a daily self assessment check list, to help ensure that those who are not feeling well stay home. The Board acknowledged parents for doing their part to follow the new guidelines. "Keeping everyone safe and well is definitely a team effort between home and school."
More than 700 students also signed on to participate in the new At-Home Learning program for at least the first quarter of the school year. Trustees heard at their September 24 meeting that 22 teachers have been assigned to this program, about half of whom were re-assigned from schools and half of whom were hired on temporary contracts. Teachers for the At-Home Learning Program are working out of spaces in schools in Camrose, Daysland, Hay Lakes and Tofield.
The Board also voted to suspend all International Travel for the 2020-2021 school year, so students will not be at risk while travelling in other parts of the world.
It was reported that BRSD's enrollment is projected to be 5542 students this year, which is down substantially from 6043 in the previous school year. School         divisions across Alberta are seeing declines in attendance, as some families appear to be delaying in sending their children back to school and are not yet taking advantage of the at-home programs many school divisions are offering.
The Critical Two
Many things are different about the current school year, but one thing that hasn't changed is the emphasis on supporting both students and staff with learning and teaching. BRSD's Learning team, with input from school staff and administration, board members and school council representatives, continues to move forward with developing goals and priorities that will provide the foundation for planning, learning and professional development in the years ahead. BRSD's  focus will continue to be on the Critical 2: Optimal Learning and High Quality Teaching.
ATA Agreement ratified
The Board of Trustees ratified a one year agreement with the ATA, for the period of September 2020 to August 2021. The ATA Local, Battle River #32, also ratified the agreement over the summer.
Following the ratification vote, the Board passed a subsequent motion permitting all BRSD non-unionized BRSD staff who are eligible to allocate a portion of their Health Spending Account to a Wellness Fund. This motion reflects a change that was made to the ATA contract and continues to ensure that all groups of BRSD staff are treated equitably.
Maintenance and Renewal projects wrapping up
When schools were closed last spring, the provincial government approved a number of Capital Maintenance and Renewal projects for school divisions, on the condition all projects be wrapped up within six months. Here in Battle River we are in the final stages of multiple projects.
At the time of the Board meeting, flooring projects at schools in Daysland, Killam and Sedgewick were virtually complete, while the roofing project for Daysland is expected to be done by the end of October.
Demolition of a modular at New Norway School is complete. At the time of the Board meeting the demolition of former school buildings in Strome and Lougheed was also nearing completion.
Re-construction and expansion of a parking lot at Jack Stuart School was about 95% finished and a modular that was moved from Killam to Bashaw was expected to be ready for use by Thanksgiving.
The Board also heard that, in addition to these projects, other capital construction is proceeding in Battle River. One year after a roofing fire, the repair of  damage at Central High Sedgewick School is nearing completion. The full school is in use by students again, with only a few deficiencies still to be addressed and a small number of replacement items still on order.
The construction of a replacement Chester Ronning School is proceeding slowly, with the issuing of a building permit delayed by a couple of weeks in August. Soil work is now underway.
Transportation appeals
The Board of Trustees heard two appeals from parents who would like BRSD to alter its boundary guidelines, in order to permit buses from other school divisions to pick up children at their homes and transport them to schools outside the division. Though the BRSD Board respects and supports the right of parents to select schools that suit the needs of their families, they do not feel parents' right to choice can be linked to the provision of transportation. The Board does not feel they can alter their guidelines for external boundaries and both requests were denied.
Looking ahead
During this fourth and final year of their term, the BRSD Board of Trustees will continue to meet with other elected bodies throughout the school division, and focus on building positive relationships in order to solve local issues. The Board members will also attend local School Council meetings as often as they can and share information / gather input through the BRSD Council of School Councils.
In addition, the Board will continue to work with other organizations, such as the Alberta School Boards Association, to promote and support issues related to public education.  Trustees will attend the annual ASBA fall meeting in a virtual format in mid-November.
Shortly after the Board meeting, on Monday, September 28, representatives of the BRSD Board of Trustees met with local MLA Jackie Lovely, for a brief chat about how the school year is going.