Go back
BRSD Board looking to the future
Posted on: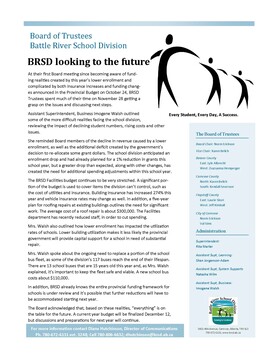 At their first Board meeting since becoming aware of funding realities created by this year's lower enrollment and complicated by both insurance increases and funding changes announced in the Provincial Budget on October 24, BRSD Trustees spent much of their time on November 28 getting a grasp on the issues and discussing next steps.
Assistant Superintendent, Business Imogene Walsh outlined some of the more difficult realities facing the school division, reviewing the impact of declining student numbers, rising costs and other issues.
She reminded Board members of the decline in revenue caused by a lower enrollment, as well as the additional deficit created by the government's  decision to re-allocate some grant dollars. The school division anticipated an enrollment drop and had already planned for a 1% reduction in grants this school year, but a greater drop than expected, along with other changes, has created the need for additional spending adjustments within this school year.
The BRSD Facilities budget continues to be very stretched. A significant portion of the budget is used to cover items the division can't control, such as the cost of utilities and insurance. Building insurance has increased 274% this year and vehicle insurance rates may change as well. In addition, a five-year plan for roofing repairs at existing buildings outlines the need for significant work. The average cost of a roof repair is about $300,000. The Facilities    department has recently reduced staff, in order to cut spending.
Mrs. Walsh also outlined how lower enrollment has impacted the utilization rates of schools. Lower building utilization makes it less likely the provincial government will provide capital support for a school in need of substantial repair.
Mrs. Walsh spoke about the ongoing need to replace a portion of the school bus fleet, as some of the division's 117 buses reach the end of their lifespan. There are 13 school buses that are 15 years old this year and, as Mrs. Walsh explained, it's important to keep the fleet safe and viable. A new school bus costs about $110,000.
In addition, BRSD already knows the entire provincial funding framework for schools is under review and it's possible that further reductions will have to be accommodated starting next year.
The Board acknowledged that, based on these realities, "everything" is on the table for the future. A current year budget will be finalized December 12, but discussions and preparations for next year will continue.