Go back
BRSD Board starts new year with new Executive
Posted on: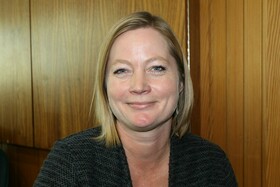 The Battle River School Division Board of Trustees kicked of the new school year by selecting a new Executive to lead them through the coming months.
Karen Belich and Zsuzsanna Hemperger will take on the role of Board Chair and Vice Chair respectively.
Ms. Belich is the Trustee for Camrose County North, and has served as Vice Chair of the Board for the last two years.
Ms. Hemperger is the Trustee for Beaver County West. This is her first year on the School Board executive.
The executive will lead the Board of Trustees through its final year, to the time of the  municipal elections in the fall of 2021.
The new leaders began their term by        acknowledging the work of outgoing Chair Norm Erickson, who served in the role from 2018-2020.
In addition, to selecting a new executive on August 27, Trustees also reviewed other aspects of their organizational structure, agreeing to continue the same schedule of meeting dates / times and the same committees, although membership on each of the committees will change for the year ahead.
The first business meeting of the Board for the 2020-2021 school year will take place on Thursday, September 24