Go back
BRSD facing budget challenges
Posted on: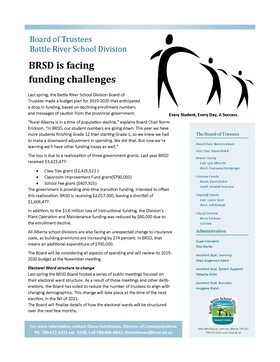 Last spring, the Battle River School Division Board of Trustees made a budget plan for 2019-2020 that anticipated a drop in funding, based on declining enrollment numbers and messages of caution from the provincial government.
"Rural Alberta is in a time of population decline," explains Board Chair Norm Erickson. "In BRSD, our student numbers are going down. This year we have more students finishing Grade 12 than starting Grade 1, so we knew we had to make a downward adjustment in spending. We did that. But now we're learning we'll have other funding losses as well."
The loss is due to a reallocation of three government grants. Last year BRSD received $3,623,477:
Class Size grant ($2,425,522 )
Classroom Improvement Fund grant($790,000)
School Fee grant ($407,925)
The government is providing one-time transition funding, intended to offset this reallocation. BRSD is receiving $2,017,000, leaving a shortfall of $1,606,477.
In addition, to the $1.6 million loss of instructional funding, the Division's Plant Operation and Maintenance funding was reduced by $80,000 due to the enrollment decline. All Alberta school divisions are also facing an unexpected change to insurance costs, as building premiums are increasing by 274 percent. In BRSD, that means an additional expenditure of $700,000.
The Board will be considering all aspects of spending and will review its 2019- 2020 budget at the November meeting.