Go back
New School Taking Shape
Posted on: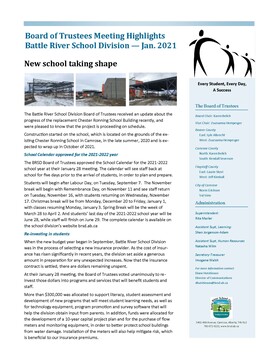 The Battle River School Division Board of Trustees received an update about the progress of the replacement Chester Ronning School Building recently, and were pleased to know that the project is proceeding on schedule.
Construction started on the school, which is located on the grounds of the existing Chester Ronning School in Camrose, in the late summer, 2020 and is expected to wrap up in October of 2021.
School Calendar approved for the 2021-2022 year
The BRSD Board of Trustees approved the School Calendar for the 2021-2022 school year at their January 28 meeting. The calendar will see staff back at school for five days prior to the arrival of students, in order to plan and prepare.
Students will begin after Labour Day, on Tuesday, September 7.  The November break will begin with Remembrance Day, on November 11 and see staff return on Tuesday, November 16, with students returning on Wednesday, November 17. Christmas break will be from Monday, December 20 to Friday, January 1, with classes resuming Monday, January 3. Spring Break will be the week of March 28 to April 2. And students' last day of the 2021-2022 school year will be  June 28, while staff will finish on June 29. The complete calendar is available on the school division's website brsd.ab.ca
Re-investing in students
When the new budget year began in September, Battle River School Division was in the process of selecting a new insurance provider. As the cost of insurance has risen significantly in recent years, the division set aside a generous amount in preparation for any unexpected increases. Now that the insurance contract is settled, there are dollars remaining unspent.
At their January 28 meeting, the Board of Trustees voted unanimously to re-invest those dollars into programs and services that will benefit students and staff.
More than $300,000 was allocated to support literacy, student assessment and development of new programs that will meet student learning needs, as well as for technology equipment, program promotion and survey software that will help the division obtain input from parents. In addition, funds were allocated for the development of a 10-year capital project plan and for the purchase of flow meters and monitoring equipment, in order to better protect school buildings from water damage. Installation of the meters will also help mitigate risk, which is beneficial to our insurance premiums.
COVID costs are adding up
The Board of Trustees heard that the extra costs being incurred to keep students and school staff safe through the pandemic are continuing to rise.
About $1.4 million has been spent this year on the development of an At-Home Learning Program for families who are not currently attending school in-person, as well as for additional staff to do daytime cleaning in school buildings and for all the specialized disinfectants and Personal Protective Equipment that is required to clean and sanitize schools and school buses.
Consolidating programs
Battle River School Division will be combining four different schools and programs into one umbrella service designed to meet the needs of students who want alternative programming.
Camrose Outreach School, Battle River Online School, Home Education and the new At-Home Learning program are all being consolidated, effective the 2021-2022 school year.
The Division has already put the schools and programs under the supervision of one Administrator. COS and BROL are also now located in the same physical space.
This change requires the school division to go through a school closure process for BROL School, to enable the marking and accounting processes to be combined with Camrose Outreach School by Alberta Education. This is only a procedural process and will not impact the service to students in any way. The closure motion will be dealt with at the Board's March meeting.
Planning for Summer School
Battle River School Division will be offering Summer School in a virtual format this July, which makes it possible for non-BRSD students to enroll and be supported in their learning  Non-refundable fees for courses were set at $45 per course for BRSD students and $65 per course for non-BRSD students. These fees offset the use of chromebooks and software required by both students and staff.
Always looking for ways to improve
Dr. Rita Marler, Superintendent of Schools, shared an update with the Board regarding all of the ways BRSD is working to support the learning and skill development of school and division staff.
This year, BRSD offered teaching staff significant time to work together on course scope and sequence work prior to the arrival of students. In addition, the Division has adapted to online programs for mentoring new teachers and providing instructional leadership training to both Principals and Assistant Principals. BRSD has participated in a two-year instructional leadership research project with the University of Calgary and Superintendent Dr. Rita Marler has recently been invited to join a Canada-wide Education Research, Development and Innovation (EDRI) group with a focus on educational improvement.
Information based on BRSD Board of Trustees Meeting January 28, 2021