Go back
Preparing for 2021 election process
Posted on: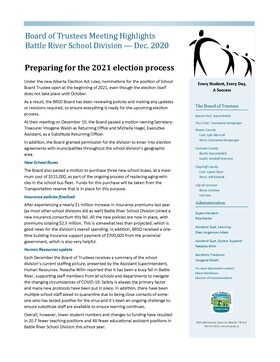 Under the new Alberta Election Act rules, nominations for the position of School Board Trustee open at the beginning of 2021, even though the election itself does not take place until October.
As a result, the BRSD Board has been reviewing policies and making any updates or revisions required, to ensure everything is ready for the upcoming election process.
At their meeting on December 10, the Board passed a motion naming Secretary-Treasurer Imogene Walsh as Returning Office and Michelle Hagel, Executive Assistant, as a Substitute Returning Officer.
In addition, the Board granted permission for the division to enter into election agreements with municipalities throughout the school division's geographic area.
New School Buses
The Board also passed a motion to purchase three new school buses, at a maximum cost of $315,000, as part of the ongoing process of replacing aging vehicles in the school bus fleet.  Funds for this purchase will be taken from the Transportation reserve that is in place for this purpose.
Insurance policies finalized
After experiencing a nearly $1 million increase in insurance premiums last year (as most other school divisions did as well) Battle River School Division joined a new insurance consortium this fall. All the new policies are now in place, with premiums totaling $2.3 million. This is somewhat less than projected, which is good news for the division's overall spending. In addition, BRSD received a one-time building insurance support payment of $700,000 from the provincial      government, which is also very helpful.
Human Resources update
Each December the Board of Trustees receives a summary of the school        division's current staffing picture, presented by the Assistant Superintendent, Human Resources. Natasha Wilm reported that it has been a busy fall in Battle River, supporting staff members from all schools and departments to navigate the changing circumstances of COVID-19. Safety is always the primary factor and many new protocols have been put in place. In addition, there have been multiple school staff asked to quarantine due to being close contacts of someone who has tested positive for the virus and it's been an ongoing challenge to ensure substitute staff are available to ensure learning continues.
Overall, however, lower student numbers and changes to funding have resulted in 20.7 fewer teaching positions and 48 fewer educational assistant positions in Battle River School Division this school year.
COVID-related updates
Since the beginning of November Battle River School Division has had a total of 33 people test positive for COVID-19, in 13 different schools, in all areas of the school division. In 10 of those schools, there have been one or two cases, while in 3 schools there are have been five or more cases.
In most cases it appears that the person contracted the virus in the community and was unknowingly infectious while at school. While there appear to have been some incidents of in-school transmission, that number remains low.
Schools have been very diligent about notifying families if their child has been in close contact with someone who has become ill and hundreds of BRSD students and staff have been quarantined for two week periods as a result.
The school division is hopeful that, with new measures in place and community case numbers beginning to slow, the number of cases connected to schools will drop as well.
Congratulations!
The BRSD Board of Trustees is very pleased to share the news that the Superintendent of Schools has successfully completed her doctoral studies, with a     Specialization in K to 12 leadership and, in late November, was granted a  Doctor of Education degree. Congratulations to Dr. Rita Marler!
- Information based on BRSD Board of Trustees Meeting December 10, 2020