Go back
Update on At-home Learning
Posted on: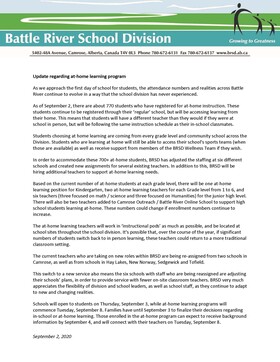 As we approach the first day of school for students, the attendance numbers and realities across Battle River continue to evolve in a way that the school division has never experienced.
As of September 2, there are about 770 students who have registered for at-home instruction. These students continue to be registered through their 'regular' school, but will be accessing learning from their home. This means that students will have a different teacher than they would if they were at school in person, but will be following the same instruction schedule as their in-school classmates.
Students choosing at home learning are coming from every grade level and community school across the Division. Students who are learning at home will still be able to access their school's sports teams (when those are available) as well as receive support from members of the BRSD Wellness Team if they wish.
In order to accommodate these 700+ at-home students, BRSD has adjusted the staffing at six different schools and created new assignments for several existing teachers. In addition to this, BRSD will be hiring additional teachers to support at-home learning needs.
Based on the current number of at-home students at each grade level, there will be one at-home learning position for Kindergarten, two at-home learning teachers for each Grade level from 1 to 6, and six teachers (three focused on math / science and three focused on Humanities) for the junior high level. There will also be two teachers added to Camrose Outreach / Battle River Online School to support high school students learning at-home. These numbers could change if enrollment numbers continue to increase.
The at-home learning teachers will work in 'instructional pods' as much as possible, and be located at school sites throughout the school division. It's possible that, over the course of the year, if significant numbers of students switch back to in person learning, these teachers could return to a more traditional classroom setting.
The current teachers who are taking on new roles within BRSD are being re-assigned from two schools in Camrose, as well as from schools in Hay Lakes, New Norway, Sedgewick and Tofield.
This switch to a new service also means the six schools with staff who are being reassigned are adjusting their schools' plans, in order to provide service with fewer on-site classroom teachers. BRSD very much appreciates the flexibility of division and school leaders, as well as school staff, as they continue to adapt to new and changing realities.
Schools will open to students on Thursday, September 3, while at-home learning programs will commence Tuesday, September 8. Families have until September 3 to finalize their decisions regarding in-school or at-home learning. Those enrolled in the at-home program can expect to receive background information by September 4, and will connect with their teachers on Tuesday, September 8.