Go back
Media Release: New School Year Kicks Off for Battle River School Division
Posted on: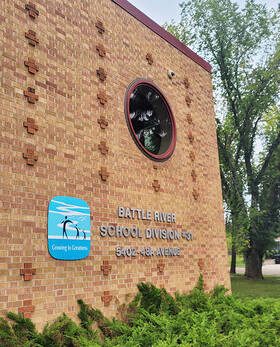 New School Year Kicks Off for Battle River School Division
It's that time again! The start of a brand-new school year has arrived for Battle River School Division (BRSD), and excitement is building as students and teachers gear up for a new learning adventure for 2023-24.
Also, new to BRSD is its superintendent, Rhae-Ann Holoien. She is honoured to begin her leadership role with BRSD and is enthusiastic about upcoming achievements that BRSD staff and students will celebrate throughout the year.
"As we step into the new school year, I'm brimming with enthusiasm and optimism for what lies ahead," says Holoien, superintendent of schools. "The start of this academic journey provides many opportunities, where 'Every Student, Every Day, a Success' is not just our vision, but a guiding principle. This vision will drive us to foster growth, inspire learning, and celebrate the achievements of each and every student."
From fresh starts to amazing accomplishments, BRSD is setting the stage for an exciting journey through the 2023-2024 school year. On Tuesday, August 29, BRSD staff members are welcomed back for a division wide learning day. This marks the first day in many years that all staff will come together to celebrate the start of the new school year. 
As BRSD doors swing open, students will begin school on Tuesday, September 5. While heading back into the classrooms, there is a mix of excitement and nerves. Our incredible teachers and staff members are here to guide and inspire as we embark on this journey of learning and growth together.