Go back
Media Release: BRSD Students Participate in Hockey Hooky Afternoon with Camrose Kodiaks
Posted on: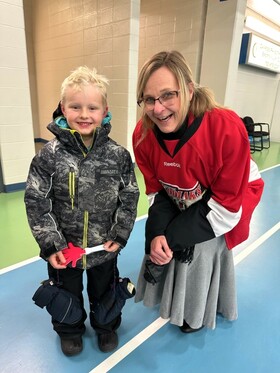 BRSD Students Participate in Hockey Hooky Afternoon with Camrose Kodiaks
Over 2,100 enthusiastic students from Battle River School Division (BRSD) and other local schools gathered at Encana Arena in Camrose on Thurs., Oct. 26 for the annual Kodiaks Hockey Hooky game.
This yearly tradition of cheering on the Camrose Kodiaks during a school afternoon, brings an exciting, memorable experience and opportunity for BRSD students. The Hockey Hooky event offers an educational experience that transcends the boundaries of the classroom. It is more than just a hockey game; it is a chance to witness the essence of teamwork, sportsmanship, and the excitement of the game—firsthand. 
BRSD superintendent, Rhae-Ann Holoien, enjoyed mingling with fans and cheering along with many BRSD students at the arena.
"This game really showed student community engagement at its best," says Holoien. "We absolutely showed our BRSD support for our local team, and witnessed how important it is for a community to rally behind its local team. Our students are able to see local pride in action, and this sense of local support is so important in our rural communities."
As members of the Camrose community, the Kodiaks extend their support beyond the rink and into BRSD schools and classrooms. Their commitment to giving back is evident through their dedicated volunteerism and connection to BRSD students. 
Students welcome these athletes into our BRSD classrooms, where the players share personal stories and emphasize the importance of perseverance and dedication in both the realm of sports and of academics. Seven Camrose Kodiak players attend classes at École Camrose Composite High School and B.R.A.C.E. (Battle River Alternative Centre for Education) in BRSD, and 12-15 players volunteer their time at BRSD schools for weekly visits and special events.
The impact of Hockey Hooky transcends the final buzzer, leaving an enduring mark on BRSD students. They depart with more than just a taste of the hockey excitement; they carry with them invaluable life lessons, a sense of teamwork, and an unwavering connection to their community.
BRSD thanks the Camrose Kodiaks players for supporting and engaging with its students, and for the invitation to cheer them on. It was telling from the excitement in the arena that students will look forward to future opportunities to cheer on the Kodiaks.