Go back
Media Release: BRSD Engagement Activities for October
Posted on: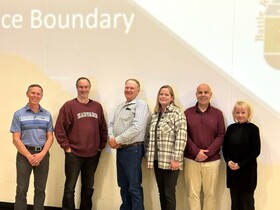 BRSD Engagement Activities for October
October has come to a close, and Battle River School Division (BRSD) is thrilled to share this month's extraordinary events and accomplishments. While reflecting on the past month, BRSD recognizes the incredible experiences of its students.
This year, BRSD has enrolled 5,398 students from grades one through 12 and registered 414 kindergarten and pre-kindergarten students. Over 5,800 students attend at 19 school locations, two outreach schools, and 10 colony schools.
"BRSD students have truly embraced the spirit of participation in extracurricular activities, and the engagement in these opportunities is nothing short of impressive," says Rhae-Ann Holoien, superintendent. "Throughout October, students have competed in a broad range of sports, from cross-country and golf to volleyball and football. The dedication and teamwork of our students is outstanding, and their action is driving even more inspiration."
Field trips offer a creative learning outlet and source of adventure beyond the classroom. These opportunities have allowed for the exploration of new places while broadening and enlightening the student learning experience.
Music enthusiasts among BRSD's students have been presenting melodious talents through the division's band programs. Schools continue to support drama students while they share their passion for performing and prepare for upcoming performances. 
As Thanksgiving weekend approached with beautiful weather, BRSD paused to appreciate the extended time for outdoor activities, and to reflect on the importance of gratitude. The Board of Trustees is thankful for staff dedication, for diversity of student successes, and for the tremendous amount of community support.
The BRSD Board hosted four community engagement events to gain in person feedback during its review of division attendance boundaries, which stretch across 6,300 square km. Family and stakeholder feedback about current boundaries is a critical component of this process. An online survey was available on BRSD's school websites from Oct. 19 to 28 to gather data from families unable to attend the boundary review meetings.
Looking ahead, BRSD is excited and hopeful about the endless educational possibilities that will arise during upcoming months. BRSD is committed to providing an environment where students can explore, learn, and grow—both inside and outside the classroom. October has offered many reasons to be proud! BRSD thanks the community for sharing in the success of its students and staff members.