Go back
Media Release: BRSD Support and Appreciation for Dedication to Bus Safety
Posted on: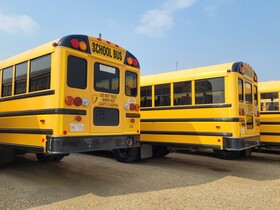 BRSD Support and Appreciation for Dedication to Bus Safety
Bus Safety Week occurs this year from October 15 to 21, and BRSD would like to acknowledge bus safety as a critical piece of daily responsibility throughout the division. BRSD safely transports over 3,600 students each school day. This is a collective endeavor involving mechanics, drivers, supervisors, and our dedicated transportation department.
"As we navigate the daily responsibilities of our roles within the division," says Rhae-Ann Holoien, superintendent of schools, "I want to take a moment to acknowledge and express our collective commitment to the safety of our students during their bus journeys."
Bus safety is a paramount concern for everyone, and dedication to ensuring student safety does not go unnoticed. The role each person plays in supervising and monitoring bus safety measures is instrumental in safeguarding the well-being of all students. With 117 buses transporting students across the division, it is important that everyone is aware of bus safety measures.
Bus safety extends beyond the classroom and bus supervision while students are riding to and from school. It is critical that all players—staff, students, parents, and the public—are aware of safety risks and dangers around busing. BRSD Transportation is taking measures to review evacuation procedures with students, focusing on bus danger zones.
"Students do not only need supervision while on the bus," says Holoien. "Diligence in the practice and review of evacuation procedures with our students is a vital component of our overall commitment to safety. This is part of creating an environment where our students feel safe, secure, and confident during their daily commutes."
It is important to recognize that rules for buses vary between the City of Camrose and rural locations. In Camrose, buses cannot use extended signs or flashing lights. Even when bus lights are not flashing, children are likely nearby the bus and a child could run out unexpectedly.
It's crucial to drive with caution and be mindful of children and danger zones when approaching school buses. Buses can create significant blind spots for drivers and pedestrians.
During Bus Safety Week and throughout October, BRSD Transportation teams will be visiting schools and classrooms to educate children about bus safety practices.
To help spread awareness to students during Bus Safety Week, Alberta Student Transportation Advisory Council is sponsoring a poster contest for students from kindergarten age to grade six. The theme, Stand Back from Yellow and Black, aims to promote awareness and safety for students and for anyone approaching buses, which are always either dropping off or picking up kids when stopped.
BRSD emphasizes the importance of bus safety to ensure that students are well-prepared in the event of any unexpected circumstances. The vigilance and preparedness of everyone is invaluable in this regard.
"I want to express my deepest appreciation for your hard work, dedication, and the care you demonstrate in supervising our students," says Holoien. "Your commitment and unwavering support for bus safety is a testament to the high standards we uphold at BRSD. Together, we can ensure that our students have safe and positive experiences on their daily bus rides."
BRSD anticipates student enthusiasm and engagement with activities and education planned throughout October in recognition of Bus Safety Week.