Go back
Media Release: BRSD Starts Up Staff Learning Days
Posted on: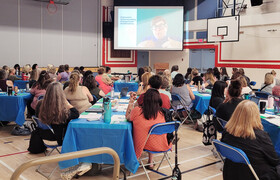 BRSD Starts Up with Staff Learning Days
Battle River School Division's (BRSD) commitment to optimal teaching and learning is a priority in our three-year plan. In pursuit of this goal and under the theme of Everyday Leadership and Resiliency, a unifying initiative was undertaken as BRSD brought its entire staff together in Camrose on August 29th, 2023.
This collaborative learning day featured inspirational talks from two motivational speakers, Jessica Janzen and Tom Watson, both of whose messages aligned with our vision: Every Student, Every Day, a Success. We want to recognize that each staff member plays an integral role in the lives of our students, and that sentiment was shared and celebrated throughout the day. 
"We believe that by coming together to share our experiences and insights, we will continue our supportive and vibrant community within our school division," said Rhae-Ann Holoien, superintendent. "Our hope is that all BRSD staff will leave the event feeling empowered, inspired, and prepared to make a positive impact on the students and communities we serve."
Continuing our dedication to professional development on the second day, staff engaged in learning sessions held at BRSD schools in Camrose. With a keen focus on our remaining two priorities, these sessions encompassed crucial areas such as literacy, numeracy, and diversity.
Participants delved into sessions covering topics ranging from teaching executive functioning, exploration of the new curriculum, First Nations, Métis, and Inuit education. Additionally, staff actively engaged with student assessment techniques, and strategies for facilitating effective planning and assessment were explored. These sessions were facilitated by expert leaders within our division. This comprehensive approach mirrors BRSD's holistic commitment to fostering success for every student, each day.
Staff across the division are ready and excited to welcome BRSD students into our schools. The buses are ready to roll, the schools are meticulously cleaned, and the technology has been upgraded to enhance the learning experience of each student!
BRSD welcomes all students for the first day of the 2023-24 school year on Tuesday, September 5.