Go back
Media Release: BRSD Celebrates Outstanding Student Achievements at Awards Events
Posted on: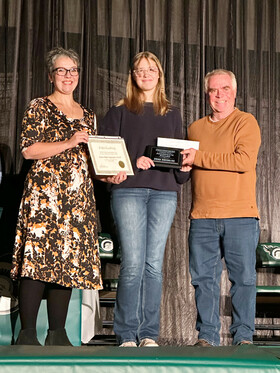 BRSD Celebrates Outstanding Student Achievements at Awards Events
Battle River School Division (BRSD) is thrilled to celebrate the exceptional achievements of its students at school awards ceremonies this fall. These local events serve as a true testament to the adage, "It takes a village to raise a child." 
Successes of the students are not only a reflection of their hard work and dedication, but also of the incredible support provided by local sponsors, businesses, organizations, dedicated volunteers, and parents and guardians. Without the attention and care of each person, these events would not be possible.
Awards days are more than just ceremonies. They symbolize the collective effort of the entire community. BRSD extends heartfelt gratitude to all those who have contributed their time, resources, and unwavering support to ensure the success of these school events. Your commitment to student education and growth is truly remarkable.
It is with immense pride that BRSD celebrates each student that has demonstrated outstanding dedication and perseverance throughout their personal learning journey. Their achievements are a source of inspiration, exemplifying the incredible potential that lies within one's youth. 
Rhae-Ann Holoien, superintendent of schools, is proud of the diligence demonstrated by BRSD students.
"The future is bright in the hands of our BRSD students," says Holoien. "It is amazing to hear the descriptions of our students that demonstrate hard work, citizenship, dedication, perseverance, and amazing talents while being presented with their deserved awards."
BRSD Board Trustees have been attending these ceremonies and are extremely proud of the achievements of our students. It is an honour for our trustees to share in celebration with the schools and students. BRSD sends a note of congratulations to all students for outstanding achievements, and extends wishes for a bright and successful future!