Go back
Media Release: BRSD Notice of Rescheduled Attendance Boundary Review Public Meetings
Posted on: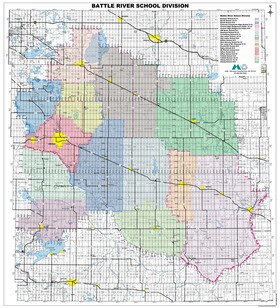 BRSD Notice of Rescheduled Attendance Boundary Review Public Meetings
BRSD Board of Trustees is pleased to reintroduce attendance boundary review discussions. After 28 years of population shifts, school closures, shifting ride lengths, and other changes, this review will assist in determining where boundaries may be adjusted to best accommodate our BRSD families and everchanging student demographics. Initially scheduled for Spring 2023, meetings were postponed due to changes to government guidelines for school transportation processes and budget restrictions.
Our Board is excited to announce that four October public meeting dates have been scheduled. These community sessions will be held by the Board from 6:30 to 8 p.m. on the following dates. Registration is not required; everyone is welcome. Your feedback will be appreciated in assisting to make any changes to existing division boundaries.
October 12, École Camrose Composite High School
October 16, New Norway School
October 17, Ryley School
October 18, Daysland School
Parents unable to attend a meeting in person will be encouraged to provide feedback through an online survey. The survey link will be available on BRSD district website beginning October 19 and will remain open until October 28.
BRSD has secured a consultant to assist in steering this project. Through this attendance boundary review and update, it is our goal to support our schools in providing quality educational opportunities while ensuring that boundaries aren't influenced by artificial factors, notably municipal lines. We aim to update boundaries to reflect changing demographics, ensuring that they are logical and efficient.
Your opinion is important to us. With your help, we may effectively evaluate how specific changes could improve experience of families and students within our division. Updates will be provided on our website.
Please see BRSD Board of Trustee's FAQ for further information.
We look forward to meeting with you.
The Board of Trustees, Battle River School Division